I did various challenges during this year. Today I'm going back into my reading year to see what I have achieved toward my reading infinite list.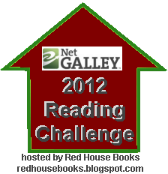 This Challenge is hosted at Red House Books. The goal is to see how many books from Netgalley we can read in a year. It is a way to keep your reading current and active. I read and reviewed 17 books. Level green!
House of Night: Legacy by P.C. Cast
Emerald City by Alicia k. Leppert
On The Day I Die by Candace Fleming
Peculiars by Maureen Doyle McQuerry
Swipe by Evan Angler
Revealing Eden by Victoria Foyt
What I Didn't Say by Keary Taylor
They're Coming! by Timothy Young
The Dark Night Trilogy: Screens and Storyboards by Christopher Nolan
Scott Pilgrim's Precious Little Life by Brian Lee O'Malley
Lester's Dreadful Sweaters by K. G. Campbell
Change The World Before Bedtime by Mark Kimball
Glitter Kiss by Adrianne Ambrose
The Girl with the Dragon Tattoo by Denise Mina
Cookie The Walker by Chris Walker
Cadaver: A Bitter Sweet Love Story by Jonah Ansell
The Immortal Rules by Julie Kagawa
Reading with Tequila
This challenge is hosted at Reading with Tequila and it is a great way to keep your reading going. I read four books and all of them I really enjoyed. Next Year, I plan on doing this challenge again.
For this challenge I read :
Glass Houses by Rachel Caine (pending review)
Matched by Ally Condie
Shiver by Maggie Stiefvater
Hex Hall by Rachel Hawkins
Sorry!1 book short for Level 1 :(
HAPPY NEW YEAR!